Agile software development
Agile is a mindset. It is about the ability to create, respond to change and find the perfect solution as you go along by adjusting the former status.
UX, UI & graphic design
With graphic design, UX and Ul bridging the gap between the way things look and the way they function and perform, the correct design strategy can have crucial effects on your business.
Prototyping
Easily get rid of the disadvantages of traditional software development by prototyping.
API integrations & interfaces
API ensure a seamless communication between various applications, backend systems, devices and programs.
Boost your projects with Agile software development
Agile software development is an umbrella term for a set of frameworks and practices based on the values and principles expressed in the Manifesto for Agile Software Development and the 12 Principles behind it.

One thing that separates Agile from other approaches to software development is the focus on the people doing the work and how they work together. Solutions evolve through collaboration between self-organizing cross-functional teams utilizing the appropriate practices for their context.

The ultimate value in Agile development is that it enables teams to deliver value faster, with greater quality and predict ability, and greater aptitude to respond to change.

Solving real problems with IT solutions is our strength, but we're experienced enough to know that most problems are actually not an IT problem. The key to (almost) everything is figuring out the right process and then creating the right UX, design and last but not least a tailormade software.
Just 4 reasons out of many to convince you of Agile Development
Satisfied stakeholders
through fast development and delivery of software
The stakeholder achieves a
competitive advantage
through rapid adaptability in agile processes
Executable software is delivered in
short periods
The permanent focus is on
perfect design and perfect technology
UX, UI, graphic design – what is the difference?
In a certain sense, all visual design starts with graphic design. Simply put, it's the art of deciding how things should look. Graphic Designers choose colors and fonts, as well as to arrange elements (such as images and blocks of text) in layouts.

UI design, in contrast, specifically pertains to the design of interactive elements such as drop-down menus, form fields, clickable elements, animations, button styling and more. So, we can understand the meaning of Ul design as building upon and expanding the Graphic Design definition, in as much as it relates to the way the things we use and interact with look like.

UX design focuses on the logic and structure of the elements you actually see and interact with. UX primarily takes place in two distinct phases: research and validation. During the research phase, a variety of tools and methods to better understand the intended users are used.
Where in the validation phase usability/pain point analysis are performed to determine if the product is producing the desired result. If not, refinements and revisions are made based on user data to make the end result better and more efficient. We have been able to achieve great success and added value for our customers in previous projects through our great combined know-how in design and implementations.
Learn more about what we can do for you in particular.
Prototyping - for faster and better results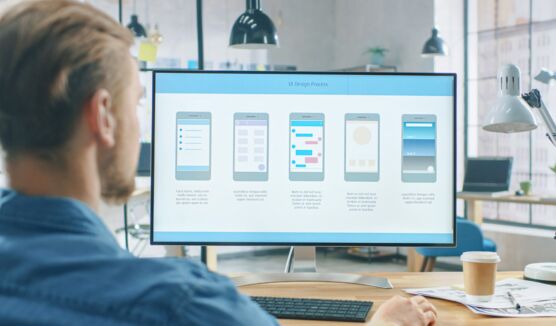 By prototyping we mean the early visualization and iterative optimization of a user interface.

The advantage of this approach: We can get feedback from all project participants and above all from users early on and correct concepts easily. This creates user-friendly results.

These goals can hardly be achieved without thorough planning and continuous improvement. Software prototyping offers different approaches to do so.
This is what our customers appreciate about prototyping:
The abstract becomes concrete and can be experienced
Different ideas can be compared, supplemented and evaluated
Possible errors and problems become visible much earlier
Corrections are easier and can be done almost anytime
API integration eases businesses and benefits consumers

API are often used in practice to reliably transfer data in real time between two systems. They enable access of services by adding codes to applications. It further enhances connectivity and bolsters functionality.

Over the years, what an "API" is has often described any sort of generic connectivity interface to an application. More recently, however, the modern API has taken on some characteristics that make them extraordinarily valuable and useful - like sticking to standards (HTTP & REST) that are developer-friendly and having a much stronger discipline for governance and security.

Their implementation becomes particularly valuable if it successfully networks (crosscompany) processes as it reaches a new level of networking and possibly even opens up new business areas.
Let's get in touch!
Contact form
Get a callback